About the Business:
At its core, the business Paws Hoofs Claws is about the best service for companion and farm animals.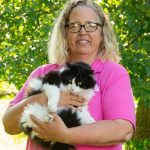 Because dogs, cats, and other pets want to stay in their homes, the business provides a drop in service as a visitor, not a sitter (all day and all night). We're visitors for 30 minutes, an hour or more for one to four times. During work days, weekends, vacations, or health concerns, the owner can trust Paws Hoofs Claws with their beloved pets. The care of small animals involves exercise if the owners want the workers to play, to walk, or to run their animals. With a free orientation, the owners of the pets and the owner/operator will complete the work order and the contract together. With nearly 100 invoices in the first year of the business, new clients become return clients.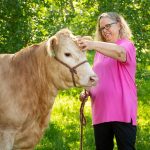 With farm animals, Paws Hoofs Claws will provide daily chores, seasonal work (like calving), and related to animal chores (like haying) for their rural clients who own horses, cattle, sheep, pigs, goats, chickens, and other animals. With a free orientation, employees will be ready to serve the clients, so the farmers can leave their homes without worry. Most owners of animals on the farm don't visit family in happy times or sad times, attend reunions, enjoy vacations, or tend to their health issues. For horses, the employees could lunge them in an arena or run them on halter and lead rope down a country road. Multiple visits to the farm can be arranged to accommodate the owners' needs because they know the requirements for their own animals.
The price for this service to small and large animals will vary with a base price of $30 per visit for the service charge and for the trip charge/gas with movement of the price up or down, depending on the animal, the services, and the location. Paws Hoofs Claws will also provide texted photos to document each animal and each visit.
Please call us at #218 464-2154 for the free orientation/training to discuss your needs with your small and large animals.
Paws Hoofs Claws will love your animals.
About Animals and Me
At the very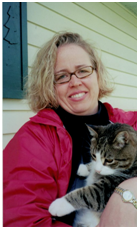 beginning of my life, I shared my crib with a beautiful, long haired cat.  In 1967, mothers didn't worry about cats and babies. I asked my mom about the cat and crib stuff, she said, "She would've never hurt you."
In elementary school, dogs entered my life with joy and laughter. When my family moved to Newfolden, MN from Hardin, MT, Bootsie, a beagle and lab mix came with us.  With a two income family, Bootsie and I watched television after school with me on the olive green carpet.  He snuggled over to me, so I put my arm around him.  Bootsie's favorite after-school television program was Gilligan's Island.
For two weeks every summer, my siblings and I would stay with my Icelandic grandparents on their farm near Mountain, North Dakota.  My grandma gave my sister and me baskets for the eggs from their chickens in the coop.  My sister filled her basket, but my basket was empty.  As I approached the hens, I was pecked with confidence by the mean ladies.  My grandparents also had a wonderful dog, Dina, who loved attention. My grandma's cats were also in the family and were the most beautiful cats in my 50 years.
To replace Bootsie, we got another dog Fritz, a wire haired fox terrier.  He wasn't real intelligent, but he was quite entertaining.  At the end of the school day, I let our cat Kitty and Fritz in the back yard with a long rope and concrete block.  Kitty and Fritz played tag for a few minutes; then, the cat would turn her back on him and sit down.  Fritz ran full speed to catch her, but the cat had a surprise for him.  As Fritz reached six inches from Kitty, he became a cartoon dog as the rope and collar tightened and couldn't reach the cat. Our funny dog brought so much laughter to our lives.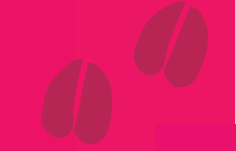 Fritz, in the next moment, could help our mother cat with "baby" sitting in my bedroom closet.  When the mama cat left, Fritz sat in the box with the kittens, walking all over him. In a few short moments, he took a cat nap with them.  In the 4th – 6th grade, I was the victim of horrible bullying when the coach said, "Karen, you're a great basketball player, and we'd like you to skip two grades and play with the 6th grade girls as a 4th grader."  I suffered alone, except for Fritz.  When I told him about my day, he'd snuggle with me as tears ran down my cheeks.
I went to Girl Scout horse camp in Wisconsin for a week.  I introduced myself to my horse for a week, and I took many photos of him to keep him in my mind forever.  My horse and I become friends from the first ride to the last ride.  During the week, we learned about horses and about their care.  With camp, I dreamed of my very own horse to love and to ride.  I don't mean to offend the men, but horses and girls have a special connection from elementary school to retirement.  My kindergarten friend and her husband adopted a fun little girl, so I've hinted about two horses for five years.  Last year, I got a text, "We now have two." I texted back with a smile, "Thanks for the awesome news."
In 7th grade, I bought my horse Suzie from my sister for $300. My dream of horse ownership became a reality after I read every horse book in the elementary school and high school libraries.  I, of course, had to teach myself the ropes.  When I had to give Suzie her worming medicine, I asked my friend's dad, the elevator manager, to weigh my horse at the elevator with curious farmers in line.  Suzie had some game, but we didn't know it as we practiced alone.  At a horse show at the old Crookston arena, Suzie and I walked around to size up the competition, and I whispered in her ear, "Let's have fun and surprise some silver saddles."  In one class, the judge walked over me and whispered, "I had you at number one, but you didn't back up straight. You're third. Nice job."  In her pasture, when I shared my bully stories, she dried my tears with her velvet nose.
In college, I studied abroad at Oxford University, and I wanted to ride a horse through the English country side with its stone walls and narrow roads. Before my ride, I struggled when the helpers said, "How many stones are you?" They laughed at my clueless face. The ride was everything that I dreamed.   I felt like I was in a movie.
In Bottineau, ND, I had a fun volunteer job as an exercise rider for a trail ride company.  I rode some horses that I didn't know and trust, so I didn't last very long.  I also toured a pregnant mare urine collection farm, and I instantly wondered about the large number of babies.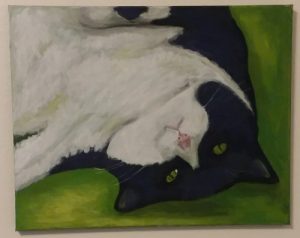 When I moved to Duluth for a teaching job, I returned to Bottineau for my new farm kitten. He was a gorgeous tuxedo cat and knew it. The farmer said, "I don't know if he'll be a good house cat."  Sparky was in my life for 15 special years, and I recorded him with a great painting of mine plus my mom made quilted wall hangings of him.  I took him for walks around the townhouses with a harness and leash, and I had to warn the dog walkers, "I got a cat here."  At our house, he was almost glued to me, and he liked to help with my computer work on my lap. Sparky made my parents and me laugh several times a day in our flower gardens and vegetable gardens, probably from his farmyard birth.  When I Skyped with my mom during my year-long sabbatical in Reykjavik, Iceland.  Sparky came to the room to hear my voice each day.   On my first night back in the US, Sparky was in his spot behind my knees at bedtime, so I was really home again.  At age 15, I had to put Sparky down because of kidney disease.
My mom and dad's cat Kisa (Icelandic for female cat) has lived with me alone for two of her ten years. With other cats, Kisa wasn't the most pleasant cat because she wanted to be queen. Kisa has started to love to snuggle on the couch and computer desk.  My cat loves catnip and treats, hard and wet.
I've had animals in my life for 50 years, and each one became a part of our family and a part of our hearts.
About Me
About Me:
Trustworthy:  As a community college English instructor, I was always honest with my students, so their grades on papers were usually never a surprise to them.  Before each assignment, I would explain my expectations for the grades and take questions or concerns. I graded exactly from my shared expectations. In high school, I was the president of my 4-H club, and the club won a state fair trip.  The parents trusted me to keep their children safe, so I gave the whole club a safety lesson.  We came home with no incidents.
Honest:  When I was the organizer for our conference of Two Year College English Association-Midwest, I had to handle the money, and I reported every cent. I had the conference bank account at my personal bank, so when the teller put $500 of conference money in my account, I said, "Oh my God, get the money out of there. Dang." As a coach of 5th and 7th grade girls' basketball, I had to share ways to improve in a gentle way, so the girls would be ready for our next game and for the future.
Patient:  When we had kittens in the house, I brought them outside daily for some kitten training.  I put the babies in one spot in the yard, and I sat down about 15 feet away.  I called them, "Here, Kitty, Kitty Come here." I waited for the last one to arrival as I cuddled and petted the rest without any food—just love. I repeated my training until the kittens found new homes.  In my year in Reykjavik, Iceland, I had to wait daily for an explanation of the conversations in Icelandic.  Of course, I wouldn't get a word for word translation.  I had to force myself to not want to understand. (Yes, Icelanders know English, but they have every right to speak their native language.)
Kindness:  During my college summers, I worked as a Certified Nursing Assistant at a nearby nursing home.  In the locked Alzheimer's Disease wing, I was chosen to work over nights with the residents for my gentle ways.  Recently, my former nursing director told me in her whole career of 25 years, "You're my best employee ever."  In one summer, we had a mama cat with six kittens, but the mother disappeared. I had to feed the kittens with my doll's bottle, and they thrived under my care.
Passionate:  When I was little, I wanted to become a vet for all sizes of animals.  In 9th grade, since I received a D in Algebra, I quickly changed my path to English and Art, not math and science.  I became a painter and was awarded for the best piece of art at the spring art show on my first painting.  As an actor on the stage, I loved to get laughs from the audience.  I read all of the horse novels in the school library and the Bookmobile, and I dreamed of a horse in my life. With my sister's help, I began my love affair with my horse Suzie.
Hard Worker:  At my first job, I worked as a Youth Conservation Corps (YCC) worker at a nearby national wildlife refuge, and I performed my best work daily.  On several occasions, I told them, "I'm done with my task. Can I complete another task?"  We removed metal boundary signs and replaced them with wooden signs.  Our crew also did the mowing in public parts of the park.  My summer job as a CNA was both difficult physically and emotionally; however, the residents were so wonderful and cute.  I asked a male resident, "How did you meet your wife?" He smiled, "She was the most beautiful woman at the dance at the Maple Lake Pavilion, and she's still the most beautiful."  My 25 year English teacher career has been a joy with the students, but the amount of papers (140 papers to grade per assignment) was so difficult at times, especially when regular life also demands my time and energy.
Character:  At one of my community colleges, I was in charge of the meetings.  We had junior high "girl" behavior from 2 English Department colleagues, and I disagreed with two of the "girls" because they wanted me to have a finger pointing meeting.  I had a meeting to share our plates—what's on your plates?"  I stuck with my decision to tell the instructors who had complaints against them. With the bullies in middle school, I decided to be a better basketball player, despite their treatment of me in the locker room and in the hallways.  In the midst, I chose to be a better person at age 12.
Strength:  I'm a person of faith, so if the journey is difficult, I lean on God.  In 9th grade Algebra class, one day, I asked many questions to our teacher, and he didn't have good answers for me. The teacher said, "If you were a better student, you'd get this."  I said in two seconds, "If you were a better teacher, I would get this," As the class and I quietly waited for the next step, he decided to continue the class.  In a few years, my high school guidance counselor told me, "With your D in Algebra, you aren't college material."  When I received my BS and MS degrees, he got a copy of both degrees along with a letter, mostly about my anger for his opinion of my life goals and the amount of students who listened to him.  In college I took Introduction to Logic, not College Algebra. In a conference in his office, my Logic Professor said, "You're doing so well in the class. You must've done well in high school Algebra. Huh?" "No, I got a D."
Courage:  I faced my fear to live in Iceland for a year because I had to give up my whole life to develop another life.  I sang in an Icelandic church from ear in Latin and Icelandic.  I also had to learn to be an alto although I had been a tenor since junior high.  The director said to me, "We do not have female tenors in Iceland."  In college, I took a gender-mixed Advanced Basketball class, and I met some guys from a frat.  When they built their intramural basketball team, they asked me to join their team.  Since my brother taught me to play basketball in 3rd grade, I've played near the basket—a forward or a center.  With my height of 5'9," I was asked to play point guard, the general of the floor.  I had to move my fear to relaxation and fun.
Organized:  I'm half German, so I enjoy the process from chaos to order.  As a teacher, I generally know the plan for each day, each month, and each semester.  I put my ideas in each box of the month at a glance calendar in pencil, so we can easily change the plan. At my first teaching job at a small town high school, 7th graders completed a spooky story, and I planned to put them in a folder.  However, one of the boys said, "I'd like to read my story aloud."  I said, "Does everyone want to share?"  The class said yes, so I said, "I think we should turn off the lights."  We had a wonderful day, so I'm organized but flexible.   With my college coursework in education, I've asked myself about the needs of my students about the pace of the assignments and the pace of the class.
Assessment:  As a teacher, I constantly ask myself about: What worked or not? What changes are needed?  Do we need to repeat?  How can we do better?  I've developed surveys to ask about the process and the product, and the assessment improves the talk, the presentation, the product, or the service.  In our teacher and student conference, a student said, "Ms. Busch, I never dreamed that I would be a great writer. Thank you." I said, "I'm so happy that writing is fun now.  You wrote awesome papers—I just guided you."
People Skills:  I have learned to talk to anyone—strangers, friends, or family members.  On a regular basis, I comment on hair with:  Did you love your hair in 7th grade?  It's so beautiful, or Do you have trouble saying no to that cute face?  or How did you meet your spouse? In a long line at JCPenney (Black Friday 2016) with a comment and a question, "I admire your height. Do you hate it?"  In the dorm at college, I was the one who had an open door for problems, situations, and concerns.  When a young woman left my room, she said, "Karen, you are such a great listener."  With my years as a student and a teacher, I can also speak to my audience of children to the elderly, and I don't get nervous or frozen.  With my teacher skills, I can also "read" the room through words and body language.  In my jobs as a CNA and PCA, I talk to my residents and clients during each shift, of course.  Mostly, I let other people be the focus of our attention with plenty of questions.
Adaptable: For the location of my student teaching, I requested a suburban school near St. Paul and Minneapolis.  I was raised in a small town school, so I didn't want to repeat my experience.  My eyes were opened, of course, and I had a nice experience in a big city.  On my first day of my first semester as a college student, I walked into biology and almost threw up with the sight of 200 to 300 students in the largest lecture room on campus.  The professor reminded us to not ask questions because you can ask questions to our lab assistant.  With my year in Iceland, I had to adapt and adjust to successfully complete my year.  I cried a couple of times in the grocery store because of the lack of clear packaging—"Is this lamb and beef?" or "Is this a can of corn?"  When I wanted to make my famous chili, I had to pay $6.00 for one can of kidney beans.
Gentle:  As a 5th grade girls' basketball coach, I had 30 girls in three teams, and I had to be gentle with them in my conversation and my demeanor.  I made them practice left handed lay ups with a fun drill and a buzzer.  My girls worked so hard for me with different levels of talent, so we all learned the basics of basketball.  I had a few push backs from adults, but I didn't care—we had so much fun. One coach came into my space during a game and asked me to switch my defense, and I said, "Nope. We practiced this defense, and we're going to run it in a game."  Another coach asked me to change my offense because it's not fair." I smiled and said, "Yes, I've taught them a great concept when they get the ball—shoot, drive, or pass. It's the triple threat."  A parent approached me after a wonderfully played game, and each player got plenty of time on the floor.  The dad said, "My daughter didn't touch the ball in the whole game." I said, "With our offense, sometimes players don't get the ball, but did she have fun?" "Yes, she has a blast and talks of you and her team all the time." I remained silent as he walked to his car.
Creative:  I started my school career with challenges for my kindergarten teacher as I cut the story squares.  She asked us to place the story squares in order, but I placed them in a new way. My teacher told me to change them, and I refused as I explained my way.  I was especially talented in arts and crafts.  For one of my horse drawings in chalk, I won third place at a regional art show.  Creative Non-fiction is where the writer retells a real story in the techniques of creative writing in fiction, so I bring my grandma to life again. With painting I started with a winter scene in 9th grade, more painting in high school, a painting class in college, a painting class in Iceland, a year of painting at my workplace, painting in the garage with my mom, and a painting class at an art camp.  Creativity is everywhere in Iceland and in my family: great grandma, grandma, mother, sister, and me. I use my creativity in a studio and in a workplace, like problem solving, organizing, and decision making.
Laughter: At the end of the first day, one of my new students stopped and said, "You are really funny." I laughed and said, "On the first day?"  He smiled and left.  Yesterday, my mom is in an awesome nursing home, and she helped to make Christmas cookies.  When I asked my mom about eating a few cookies, she said, "They didn't give us any to eat."  I've loved to be a part of humor in all of its forms.  In junior high and high school, I became an actor in one act plays, three act plays, and musicals.  I learned about pauses, word choices, voice changes, and body language. In our adventures to nearby or to world capitals, my mom and I loved to see the humor in life, so everyday life is the source of great laughter.  When my mom was told of her Parkinson's Disease, I vowed to make her laugh during my visits.  One day, I said to her, "I try to make you laugh." My mom said, "I like it."
Calm:  According to my mom, I arrived in this world in calmness.  In two family vacations, I walked away from my mom and my family.  In downtown Minneapolis, the music room in Dayton's was stuffy, so I walked away to the front doors for some air.  As I paused on the sidewalk, the security force looked for me. In the midst of craziness, I remained calm. Before my week at girl scout horse camp in Wisconsin, my mom explained the whole deal with periods.  Like clockwork, I had my first period and went to the nurse, and I went on with my day and my week.  During my MS defense of my paper, the English professor and education professor fought over my paper as their words suddenly became more important than my words.  I waited for them to get back to my research project, and I realized if my professors needed to argue, I probably had a pretty good paper—Yes, I passed.  Last spring, I subbed for a nearby school, and I took the individual worksheet from their teacher, and I created a small group activity with the help from the students. I told the students in each class—the deal with the assignment from their teachers and the expectations from me.  When the bell rang, a female student approached me and said, "Ms. Busch, you are the calmest substitute teacher in my whole entire life."  I smiled and thanked her and added, "Do you think it's my 25 years?"  She said, "Probably."
Adventurous:  My spirit to travel and to experience new places started on our family trips in the summer in our black 1970's station wagon with no AC, but when we arrived, we would pick a museum to tour.  My mom and I took ceramic classes together in a nearby town, and we loved the journey of each piece.  I studied abroad at Oxford University in England, and I laughed every minute of our study and our tour.  On our free day in West Berlin, a friend and I decided to go to East Berlin for the day and night.  We experienced East Berlin before the wall came down in the fall of 1989.  My mom and I traveled with a big group of Icelandic Canadians and Americans.  In a few minutes, we felt at home, and I began to verbalize my dream to live and teach in Reykjavik, Iceland.  At the end of my school year, my mom arrived for our 4 cities tour: London, Paris, Berlin, and Copenhagen.  We smiled and laughed each day in our mother-daughter adventure.
Life Time Learner: In middle school, I attended basketball camp at a nearby university, and I learned about basketball along with minority groups.  I took a self-defense class if I needed the techniques.  I took a ballroom dance with a female friend—I was taller, so I was the "man." With my voice, I've learned to be a better singer by ear.  In Iceland, I finally learned to knit a scarf with Icelandic wool.  I took lessons from the knitting teacher on her morning breaks.  I learned to paint from several instructors, and I allowed myself to be guided and be changed.  A few years ago, I started Dressage (English style) lessons with my instructor's horse, and I was probably a C rider; however, my feelings about Dressage was in the A range. I don't have to be perfect to enjoy a new activity.  A few of my colleagues told me about a new activity, "I would never try something new because I don't like being bad at something."  I'd like to pass a law for teachers to learn something new each year. For my animal business, I've taken 2 workshops on idea to business, and I have a mentor, who is a retired business owner.  The mentorship will continue as I journey into business ownership for the first time in my life.  I also plan to talk to other people who could guide me with my business.